30 Day Exchange
Within 30 days from date of purchase, Violines de Luthier will exchange any instrument bought from our inventory for any other instrument that we own of equal or greater value providing the instrument is returned in its original condition.
Instruments we specifically order or customize for customers cannot be returned

48 Hour Approval
You can order any of our instruments to be sent directly to you for a 48 hours approval. Simply inform us by email and we will arrange it for you. Once the instrument arrives you can enjoy it for a full two days before deciding whether to buy.
If you decide to keep the instrument just let us know. If for any reason it is not exactly what you were seeking, simply return it in the same condition as received for a full refund (less any wire fees/bank charges or card fees or custom duties and shipping costs).
In-store purchases do not qualify for the 48-hour approval period.

National and International
Shipping
Violines de Luthier offers international shipping service for all countries and regions. We usually ship via TNT/FedEx for international services because they deliver effectively and safely to most places and treat our merchandise with care.
The shipping costs you can find in our SHIPPING section, it includes transportation, safety packaging and full insurance for the value of the
instrument
.
Usually all shipping costs and insurance are paid by the buyer.

Free annual Checking
& Setting
All our
instruments
have free annual service of Checking and Adjustment. To benefit from this warranty the
instrument
has to be delivered to the store and our craftsmen are responsible for adjusting the most sensitive parts (nut, bridge, cordal, ..) cleaning the most used areas (neck, fingerboard, soundboard, bridge) and check playability (tuning, sound, pegs, ..)
If we detect the need for any repairs, we would assess and budget for customer approval.
You may be interested
Agenda
Last news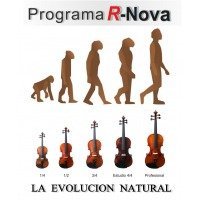 Program R-Nova
Buy your student instrument in Violines de Luthier, and when you need to change it for a bigger or higher model, deliver it as part of the payment of the new one.
Read more
Social Networks
Tweets by VdeLuthier