Agenda of events
Violin Concert - Jonathan Mesonero
JONATHAN MESONERO · VIOLINIST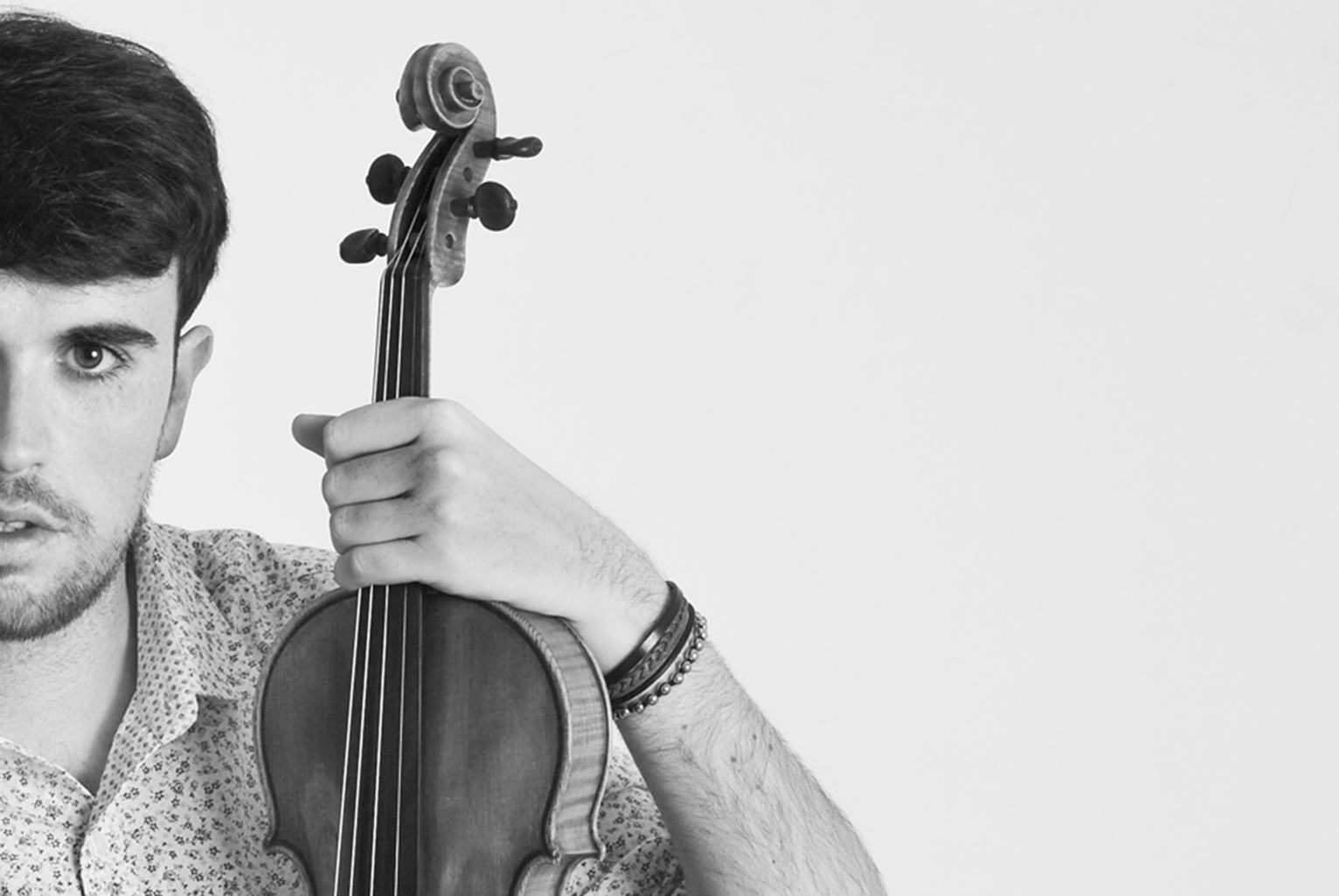 His elegant virtuosity, the way each piece is approached with profound knowledge and the passion with which he plays, makes Jonathan Mesonero an outstanding violinist. 
A musician with a clear international vocation, Jonathan has developed a sound solo career, combining classical works with a special interest in contemporary music. His performances at festivals in Spain, Germany, France, Switzerland, Italy and Portugal at venues such as the Berlin Philharmonie and Konzerthaus, the Dusseldorf Tonhalle, the Auditorio Nacional in Madrid, the Palais des Beaux-Arts in Brussels, the Kursaal in San Sebastian and the Euskalduna in Bilbao, confirm Jonathan as a leading figure in the current music scenario. 
In line with his comprehensive understanding of music, Jonathan Mesonero, together with his work as a soloist, also has worked as a chamber musician with the Artemis, Casals, Orpheus and Ituriaga quartets and alongside other musicians such as Natalia Prischepenko, Harmut Rohde, Andoni Mercero, Heime Müller and members of the Berlin Philharmonic. What is more, he leads several chamber groups, such as the ArTrio Berlin, with which he was awarded first prize at the Mirabent i Magrans chamber competition. 
The quality of his playing is endorsed by awards such as first prize at the Gipuzkoa Violin Competition (won at the age of 15) and recognition from the Fundación Nicanor Zabaleta, Humboldt-Wardwell Stiftung, Artistas Intérpretes o Ejecutantes (AIE), the provincial government of Gipuzkoa, Fundación Kutxa and Jeunesses Muiscales, Germany (DAAD). 
He has shared the stage with artists such as Frank Peter Zimmermann, Pinchas Zukermann, Ivry Gitlis, Gautier Capuçon, Julian Steckel, Natalia Prischepenko and Joaquín Achúcarro amongst others and is a frequent guest of orchestras such as the Berlin Konzerthausorchester, the National Orchestra of Spain, the Galicia Symphony Orchestra and the Euskadi Symphony Orchestra. 
Jonathan has recorded for Spanish National Radio, Catalunya Radio and EiTB (Basque radio and television). 
After training at prestigious European institutions, Jonathan Mesonero graduated with honours from Musikene (Centro Superior de Música del País Vasco) with Keiko Wataya and from Berlin's UdK (Universität der Künste) with Latica Honda-Rosenberg. He then went on to take a Master's at Berlin's UdK under the guidance of Irene Wilhelmi. One of Raffaela Acella's most outstanding pupils, he has gone on to further his training under musicians such as Krzysztof Wegrzyn, Pavel Vernikov, Yayoi Toda and Alexander Brusilovsky.
VIOLIN SOLO PROGRAM

Requiem aeternam dona eis, Domine
Requiem aeternam dona eis, Domine es el título de un proyecto muy personal que abarca un programa enmarcado en el carácter sacro de estas composiciones escritas para violín solo. Curiosamente el violín, considerado como el instrumento del diablo, es el encargado de dar vida a un repertorio en el que el cielo y la tierra quedan un poco más cerca, porque más allá de la vida está la música. Por eso, durante muchos siglos, el fin de la vida fue una de las principales fuentes de inspiración para músicos y artistas.
En este programa, compuesto exclusivamente por violinistas (considerados una raza aparte entre los grandes compositores de la historia de la música), vemos cómo la muerte inspiraba e invitaba a viajar a mundos desconocidos, mundos lejanos que, de alguna manera, mantenían vivos en la memoria a quienes un día partieron hacia un lugar mejor.
La
Passacaglia
de H.I. Biber, también conocida como "El ángel de la guarda", se enmarca dentro de la obra completa de las Sonatas del Rosario, una obra llena de connotaciones bíblicas y religiosas. La Passacaglia, pasacalle en castellano, se abre con un tetracorde descendente que evoca el himno alemán al Ángel de la Guarda "Einen Engel Gott mir geben" (Dame señor un ángel). Y así comienza este concierto, de la mano de un ángel que nos va guiando poco a poco en el ascenso al Cielo.
Igor Loboda nos regala un
Requiem
, basado en un tema popular ucraniano sobre el río Dnieper, en homenaje a todos los fallecidos en el conflicto ucraniano. Esta obra de 2014 demuestra que la muerte sigue siendo un elemento constante en la música hasta el día de hoy. Tuve el privilegio de tocar por primera vez en público este Requiem por Ucrania en San Sebastián y lo cierto es que pocos lugares más emblemáticos que Euskal Herria para interpretar una obra para violín solo, que en la tradición occidental pagana representa el homenaje al Diablo. De hecho, el origen de este proyecto tiene su germen en la cultura vasca y su famoso Akelarre, como símil musical de la reunión de sorginak, las brujas, que buscan el paroxismo a través de la música.
J.S. Bach escribió su
Ciaccona
, perteneciente a la Partita nº 2 en re menor, en 1720, a modo de lamento o "tombeau" musical tras la muerte de su esposa María Barbara. Se trata de una obra con una gran carga simbólica numerológica y diversas referencias a los corales luteranos, en la que el cantor de la iglesia de Santo Tomás de Leipzig emplea desde el principio la melodía passus duriusculus, utilizada con frecuencia en la retórica barroca para expresar sentimientos de sufrimiento y obsesión tras la pérdida del ser amado.
Obsesión
es precisamente el título de la Sonata para violín solo nº 2 escrita por el violinista belga Eugène Ysaÿe. Compuesta a modo de homenaje a J.S. Bach, utiliza fragmentos de la Partita nº 3 en Mi Mayor del compositor barroco. Esta obra virtuosa no sólo pretende recordar al cantor de Leipzig, sino que también nos introduce, de una forma rotunda, en el mundo de los difuntos. Y es que Ysaÿe utiliza uno de los himnos latinos más famosos, el "Dies Irae" (Días de ira), un himno representa el día del juicio final, donde la trompeta anuncia la última llamada ante el trono divino. Los elegidos se salvarán mientras que los condenados serán arrojados a las llamas eternas.
A todos los que estaréis el próximo día 30 compartiendo este recorrido musical, GRACIAS, por vuestra presencia y por querer conocer una parte del camino recorrido por estos grandes compositores que buscaron la forma de elevar su música por encima del silencio de la muerte y de la pérdida.
Jonathan Mesonero
ProgramParte I.
Passacaglia para violín solo "El ángel guardián"- F. Biber  [13 min]
Requiem para violín solo - I. Loboda [7 min]
Parte II.
Ciaccona para violín solo - J. S. Bach  [15 min]
Sonata para violín solo nº 2 "Obsesión" - E. Ysaÿe  [15 min]
Date
:           30th of May
Time
:          20:30h
Address
:     Violines de Luthier, Madrid
Price
:          10 €
LIMITED PLACES;
 B
ooking: 
violinesdeluthier@yahoo.com
You may be interested
Agenda
Valuation Antic Instruments
Giorgio Grisales
Time 10.30h - 20.00h
Last news
Cremona, World Capital of the Violin
Cremona continues to maintain the tradition and technique of violin construction of the great masters
Read more
Social Networks
Tweets by VdeLuthier