Agenda of events
Valuation Antic Instruments - Giorgio Grisales
Instruments Clinic and set up
Valuation of Antic Instruments
Giorgio Grisales
Saturday 1st of June we will receive the visit of prestigious Luthier Giorgio Grisales, President of the Consorzio Liutai Antonio Stradivari of Cremona.
Giorgio will perform a clinic of instruments, violins, violas and Cellos, a checking, set-up and adjustment totally free of cost for owners who may be interested (only of instruments purchased in Violines de Luthier).
There will also be a valuation of old instruments for those people interested who wants to know the antiquity and the approximate value of their instruments.
No cost. Only appointments will be attended.
 
Those people interested can request an appointment to the following email: violinesdeluthier@yahoo.com
You may be interested
Agenda
Valuation Antic Instruments
Giorgio Grisales
Time 17.00h - 20.00h
Last news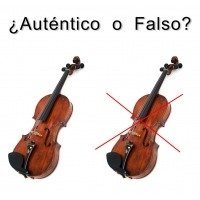 A matter of Honesty
A few simple tips so you do not get ripped off when buying your new instrument.
Read more
Social Networks
Tweets by VdeLuthier