Purchase or Rent a violin ?
News published on 05/09/2021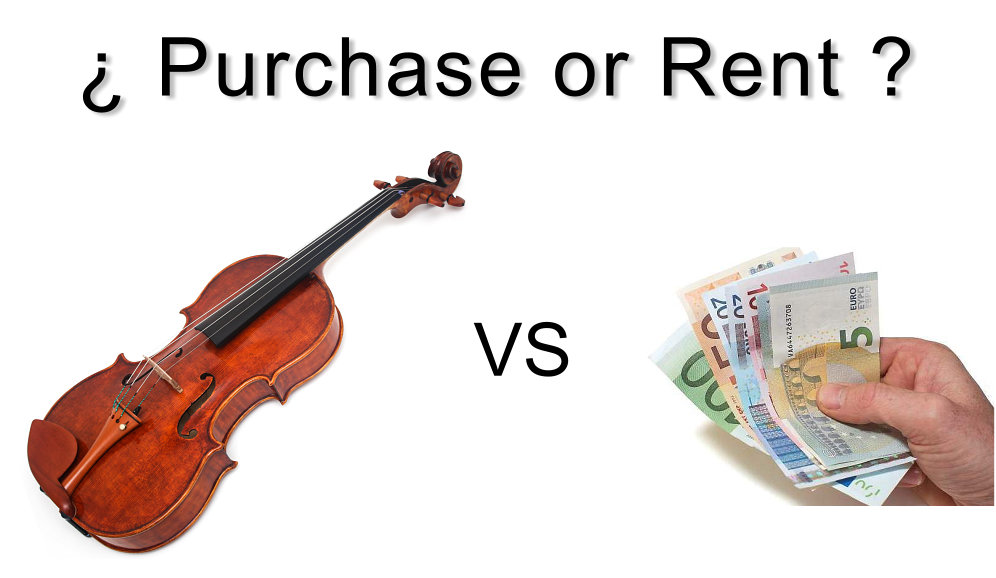 What is better to Purchase or Rent a Violin?
Each beginning of the course the same question and the same doubts arise. Students, parents and teachers often ask us the same thing. 
And always you can hear advantages and disadvantages for each of these alternatives:
- If you buy you have to face a higher payment at the beginning
- If you buy, you will accumulate more violins when the student has to change to a bigger or better violin.
- On the contrary, if you buy the violin it keeps its value over time 
- If you rent it will make small monthly payments and you can also access to a higher quality violin and better setting
- If you rent you will always have all your material ready
- In rentals, a higher level violin is always available.
- On the contrary, if you rent all the money paid monthly it will be money lost
- ... 
And so we could continue to provide more arguments, for and against each modality. 
So, what is the best option? 
The truth is that there is no better option as such, but that any of these modalities, purchase or rent, can be good or bad depending on who offers them and what is the real content. 
That argument that when renting accesses a better violin, in many cases it is not true. They can give you a moderately adjusted Chinese violin for which you are paying a fee that is not worth it. 
Maybe you have been told that renting will always have your material ready. And then it turns out that they charge you for setting the violin, or for the deterioration of the hair of the bow or for the strings ... so that what kind of renting is it?. 
As a general principle it is advisable to read the rental clauses well before deciding on this option, test the instrument they are going to provide you, and make sure that they include the settings that the instrument requires at no extra cost. 
It is also very advisable to find a trustworthy shop where they can offer the two modalities, buying and renting, and where they explain in detail the real costs and advantages of both options. 
And of course, do some numbers to see what is better for your economy and your interests. See these examples: 
PURCHASE option of a Beginner violin setApproximate value: € 300
In Violines de Luthier, once the student stops using it and if it is reasonably well preserved, we will buy the instrument for 80% of its value, that is, € 240, which can then be contributed if you buy a bigger instrument of a larger size to continue the studies. 
Assuming that the student keeps this violin for two years, the real monthly cost was only € 2.5, although you have to face an initial payment of € 300. But if a violin worth 600 € is later needed, you only have to contribute € 360, and not the entire purchase value. 
It seems quite advantageous, isn't it? Well, good advice, if you plan to buy it, go to a shop that give you guarantees to buy back the instrument. 
Also in Violines de Luthier, we take care of the setting and maintenance of the purchased violin, without cost. It guaranteed that the instrument is always ready. 
This modality is recommended for students who already know that they like the violin and want to continue studying and improving. With every purchase they make, no value is lost, violins are not accumulated and better violins are progressively accessed in an economically more comfortable way.  
Modality of RENTAL of a set of initiation violinApproximate value: € 300
In Violines de Luthier we offer this service for a violin like this:
- Monthly fee: € 18
- Including settings and revisions without cost
- In addition, 50% of the payments made are redeemable in case you decide to keep the violin.
- 80 € deposit 
Assuming that the student keeps the instrument only for one course, that is 9 months, the total cost would be € 162. 
Advantages of this modality:
- If the student decides not to continue studying violin, he will only have paid € 162, and not all the value of the instrument.
- An added advantage of Violines de Luthier, if at the end the student decides to keep the instrument, then 50% of the monthly payments would be part of the payment, i.e. € 81, which would mean a good saving of purchase. 
This modality is recommended for students who start with the violin for the first time and who do not know if this activity will please them. 
It is also recommended for students who want a good study violin and who, for economic reasons, are more interested in paying a monthly rent. 
In short, if you are looking to purchase or rent an instrument for the new course, go to a trusted shop, where you will be informed of the real costs of both options, advise you with judgment, and where you can test the instrument you want to buy or rent. 
Beware of cheap prices, in most cases you will be given a low quality Chinese violin that will most likely end up discouraging the student, burdening their motivation and ruining their learning. 
And the most important, ask and consult  to professionals what is best for the student, and also for your economy. Do not be in a hurry, because your decision will affect the learning of the student. And we would all like to do the best for them, isn't it?